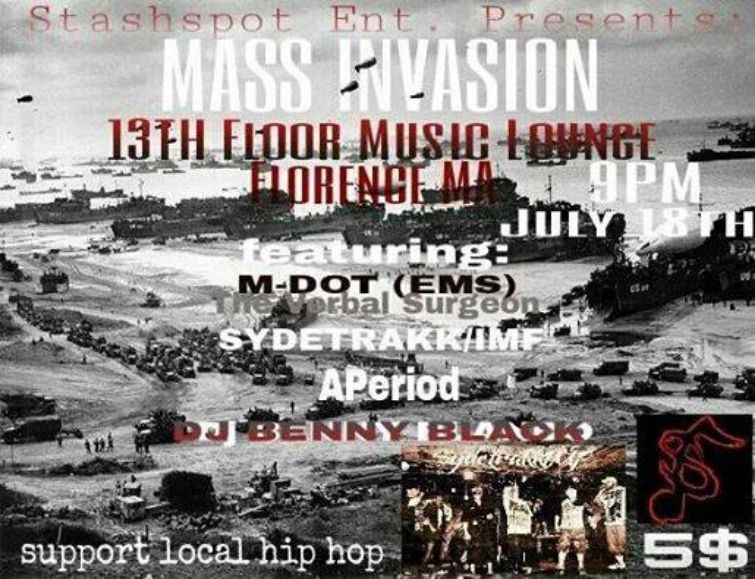 Yo. Once again, Stash Spot Entertainment bringing you the finest in local, regional, and national hip hop ---TONIGHT!! ....come party.
"An evening of Hip Hop culture featuring performances by some of the illest emcees from the Bay State. An exceptional lineup featuring the award winning Boston native M-DOT, with his EMS crew.. The Verbal Surgeon.. Sydetrakk/IMF..APeriod.. Brittany Koff... Music by DJ Benny Black.. Only $5. Special Guests. This will be a filmed event.
M-DOT
: Frequent collaborations with populous respected rap groups, and consistently touring overseas, have built M-Dot's following. In 2008 M-Dot was named to Stuff Magazines Hot 100. M-Dot performed at the 2010 Winter XGames in Tignes, France. M-Dot won both major Boston hip-hop music awards in 2010: at the 22nd annual Boston Phoenix awards, Best Hip Hop Act, and at the 23rd annual Boston Music Awards, Hip Hop Artist of the Year. He then went on to win Hip Hop Dependency "Artist of the Year 2011." M-Dot reached number 2 on RapAttackLives.com college radio charts and finished fifth in vinyl sales in 2010 at undergroundhiphop.com In 2008 M-Dot and Casey Veggies shared the honor of "2 Dope 2 Sleep On" by 2dopeboyz.com. In May 2012 in support of the release "Layer Cake," M-Dot embarked on a 33 day European tour with the likes of Slaughterhouse, Saigon & El Da Sensei."
cheers