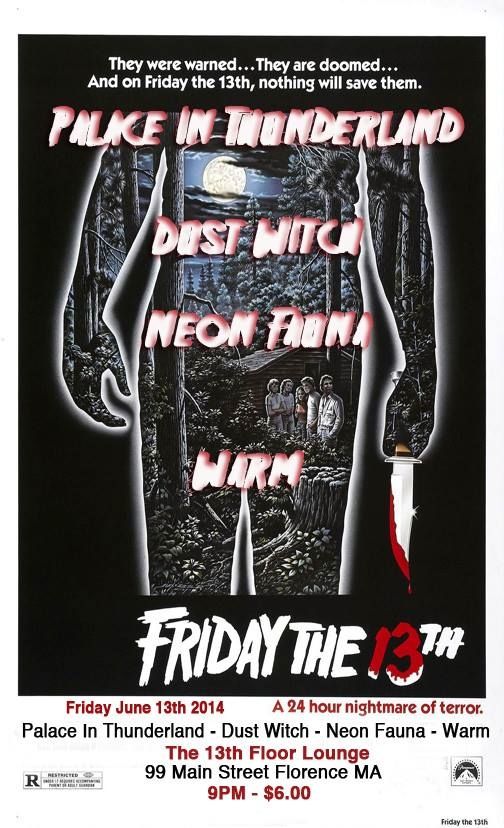 Well ...it's Friday the 13th @ 13th Floor Music Lounge. There's a "Honey" full moon tonight, something not seen in 100 years we hear? There's some ladies who are celebrating their birthdays tonight....and there are four nasty rock bands playing their music tonight as well:
Palace In Thunderland, Dust Witch, Neon Fauna, and Warm
....these four bands represent lavish face-melting and wonderful musical ass-kickings coming your way. When you're here tonight you'll understand. We're trying our best to contain our excitement ....BUT WE're FUCKING EXCITED FOR TONIGHT'S SHOW!!! So come here and get your weekend kicks started in
VERY
proper style!!
PALACE IN THUNDERLAND
(12:20)-Esoteric and eclectic heavy rock from current and ex-members of Black Pyramid, Blue Aside, Space Mushroom Fuzz, and HydroElectric. Nasty band folks....you shall be enlightened.
https://www.facebook.com/PalaceInThunderland/timeline
DUST WITCH
(11:20) -New school, old school prog-rock from Western-Massachusetts. (first show since November!!) Watch, you'll be enthralled -while they melt your face with their masterful compositions.
http://dustwitch.bandcamp.com/
NEON FAUNA
(10:20) -Deeply textured rock soundscapes with hints of prog / punk /math frequently involved. Former members of Yucky Octopus & Swillmerchants, aka: bad mother fuckers.
https://www.facebook.com/neonfauna
WARM
(9:30)- Highly-dynamic experimental post-metal from CT. Seriously, don't miss their set. This band is fuckin heavy, dynamic...and scary. You'll love it.
https://www.facebook.com/warmband
21+ // 9pm // $6.oo