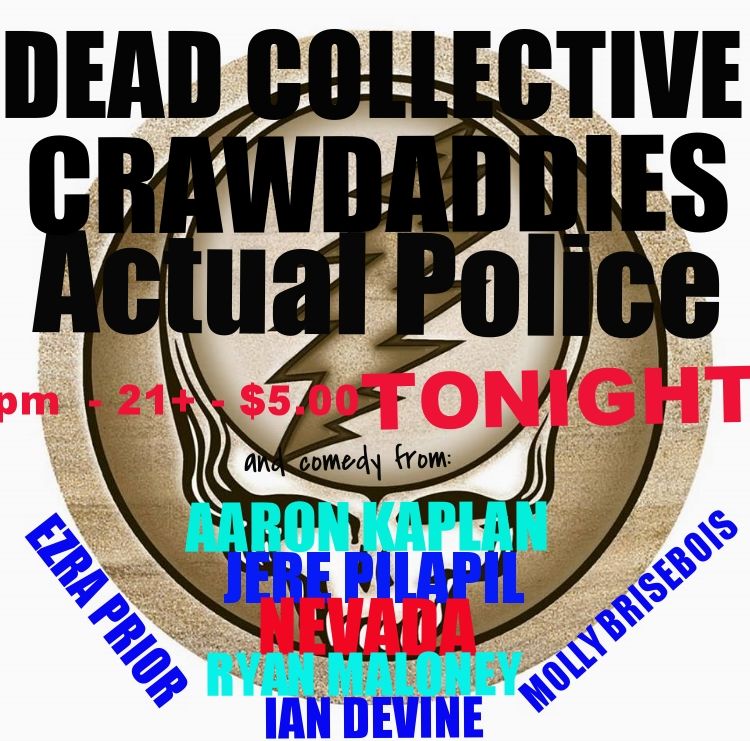 Here's how you do it: you take the music of the
GRATEFUL DEAD
, get phenomenal musicians together who put "twists" on the songs. Then they blow your mind with this technique.
COME TONIGHT TO PARTY WITH THIS MASSIVE ENSEMBLE CALLED: DEAD COLLECTIVE!!!
..now wait, the fun starts before Dead Collective hits the stage because
CRAWDADDIES
are in the house with their experimental farmer rap / hip hop mastery! Not done yet, only just begun...
THE ACTUAL POLICE
will be rokking as well (yes, that's a band. with musicians. they're good!)....WAAAAIT!! There's more. Some funny-ass people will be here telling funny tales and such, they're comedians!!! Yes....and their names are:
Aaron Kaplan, Jere Pilapil, Ian Devine, Nevada, Ezra Prior, Molly Brisebois, and Ryan Maloney
. ...*whew*....this is going to be a fun-ass night! Get here on time!
21+ // 9pm // $5.oo cover ($4.00 cover if you bring a canned good for the food drive!)