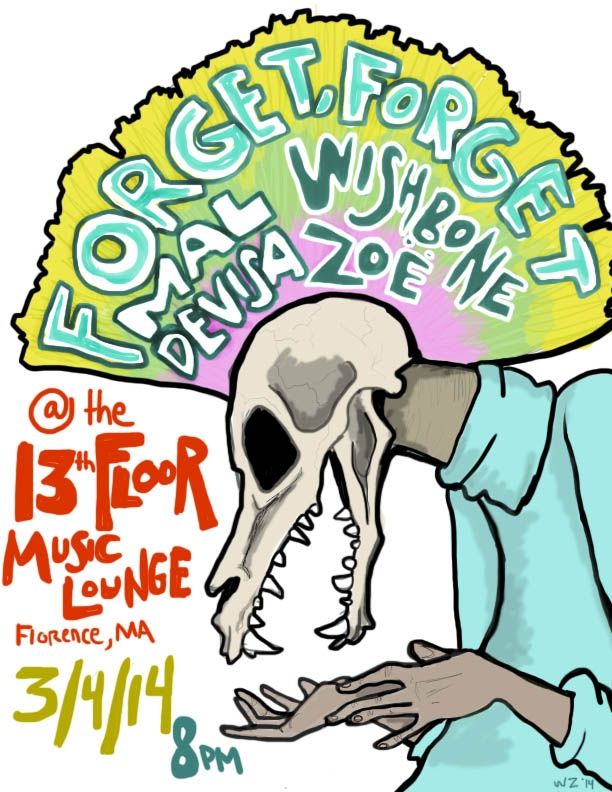 Wooo hoo! This "polar vortex"we're in suuuucks! (mentions of the weather will occur in this blog...) So Come enjoy some beautiful music tonight! (we do music a bit earlier here...starts around 8) Come party! With:
Mal Devisa
- "Mal Devisa is a project started by Who'da Funk it's Deja Carr. With driving bass melodies, hypnotizing harmonies and a variety of genres, Carr conjures up a live show one would have to see in order to truly hear."
http://maldevisa.tumblr.com/
Forget Forget
(ME) - "Their sound is lush, expansive, and multi-layered, yet it is crafted to be fundamentally accessible. It has been labeled as indie-rock and chamber-pop among other things. Guitar, synth, and string parts are layered atop a foundation of tight, driving drums and bass. Three- and four-part vocal harmonies fill out the arrangements lushly and beautifully."
http://www.forgetforgetmusic.com/
Wishbone Zoe
- "...a teller of stories, a rummager of the discarded tragedies and hopes of human beings.... a solo act, a band, an orchestra. Using a collection of assorted bottles and electric drills, banjos and guitars, a megaphone and a coconut kalimba, she manipulates the word into fire and the note into smoke."
http://www.wishbonezoe.com
21+ / 8pm / $5.00